Is SnapTube APK Safe?
Is SnapTube safe? Many people have problems in installing SnapTube app because their devices show SnapTube is unreliable / has security risk and require them to allow the installation from unknown sources if they really want.
Therefore, you may have a question about SnapTube APK before installing – is SnapTube safe?
What is "unknown sources"? And what kind of apps will be marked as unknown sources? Applications marked as unknown sources by Android OS doesn't mean they are insecure. Actually, Unknown sources are apps from third-party which may be not trustworthy. In other words, unknown sources are applications that have not passed through the Google Play Safety Test and cannot be found in Google Play Store.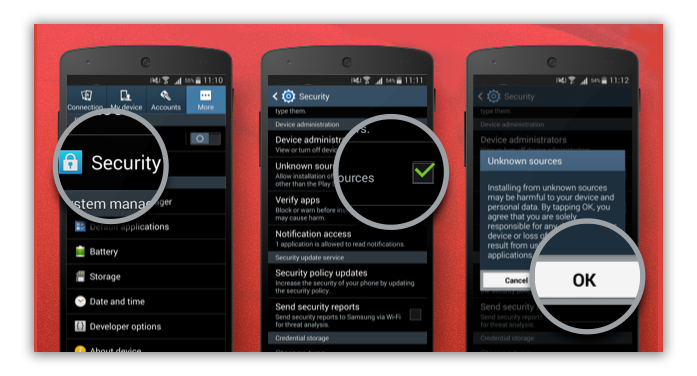 Apps violated Google Play Policy are not allowed to be published on Google Play. SnapTube is such an app. According to Google Play Policy, SnapTube is rejected because it encourages copyright infringement. So we cannot download it from Google Play. The Security warning before installation does not mean it surely has virus.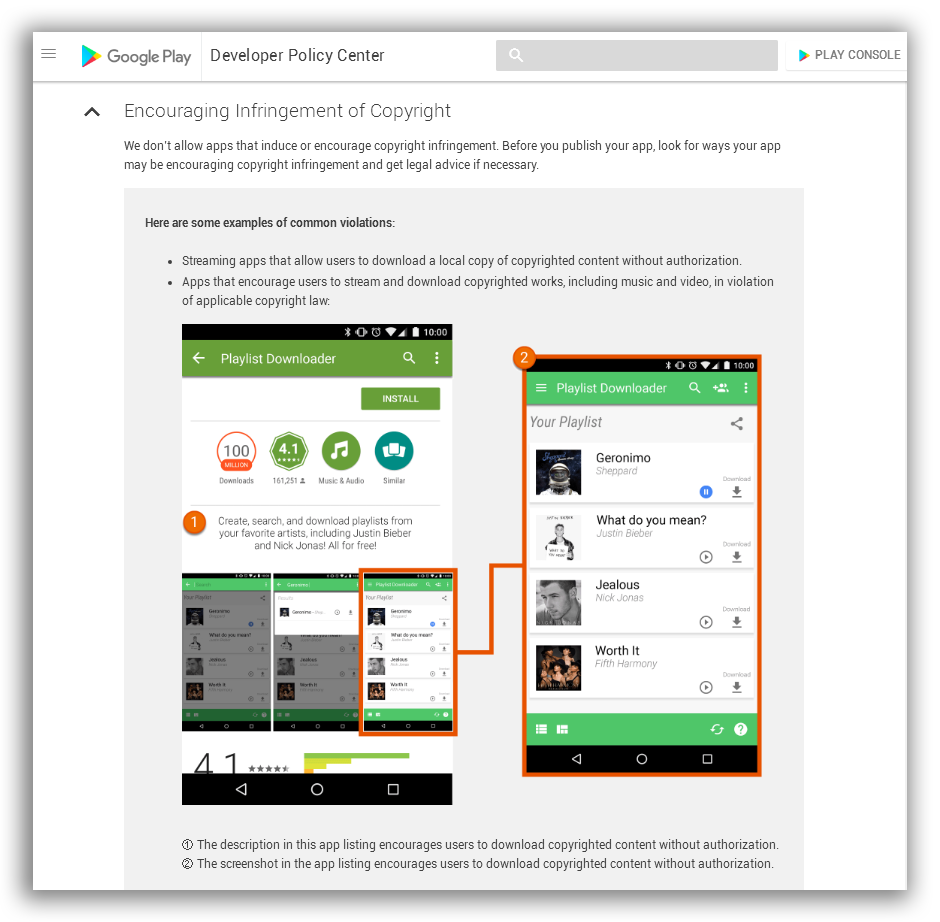 However, SnapTube is not that safe though it hasn't any virus. Read the further information and analyses on SnapTube and you will know why.
Why is SnapTube app insecure?
Is SnapTube safe to use? SnapTube has security risk because it needs unnecessary permissions, is developed by an unreliable team, and runs extra data.
1. SnapTube requires unnecessary permissions to obtain your info.
Every app needs permissions to access to certain hardware, features or data of the Android or iOS device. However, SnapTube requests much more permissions than it really needs, such as READ_PHONE_STATE, ACCESS_COARSE_LOCATION, etc.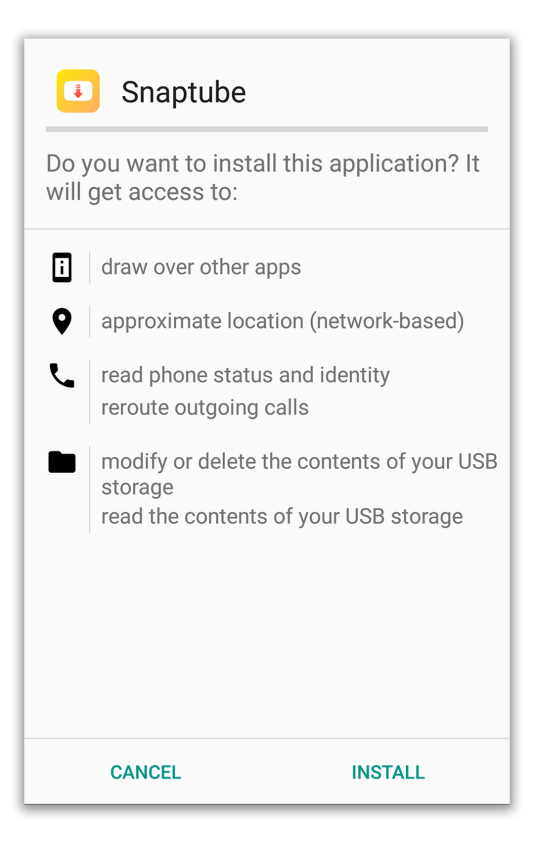 Shockingly, after decompiling SnapTube APK I found SnapTube got more permissions than it asks. And that permissions may enable SnapTube to control your phone and read your personal data.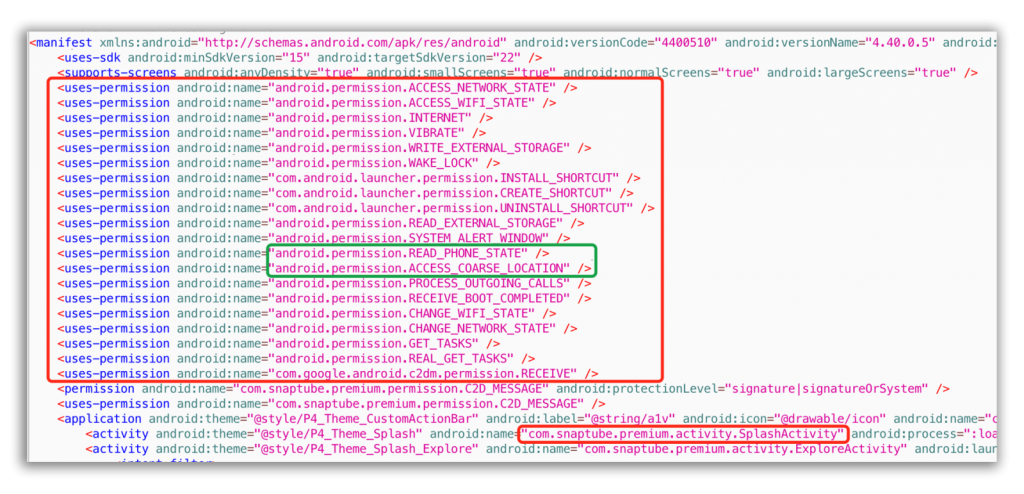 Attention! SnapTube may work as a spyware since it demands "Reroute outgoing calls", "Read phone status and identity" and "Approximate location" permissions, which could reveal your personal information and real-time location.

2. SnapTube is developed by an untrusted team.
Is SnapTube safe and trusted? After further investigation, a fact is found that SnapTube is developed and owned by a Chinese company. However, Chinese apps may be not safe. Indian government reported that 42 Chinese apps sending users' data back to China, and have the potential to carry out cyber attack (see the apps on TECHNOLOGY).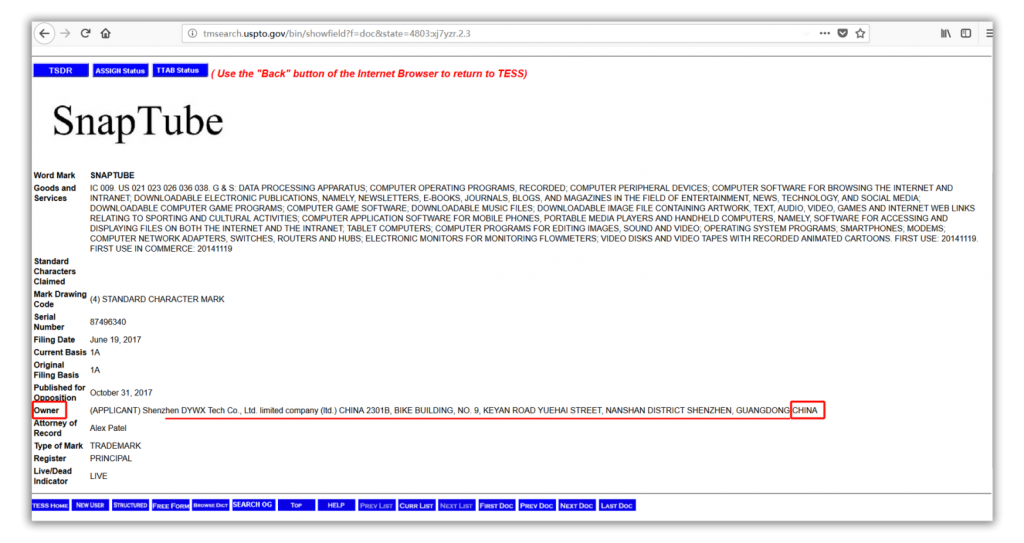 SnapTube app may be not safe. As you can see in the first point, SnapTube demands many unnecessary permissions so that it could obtain your contact, current location, etc. Those personal data may be sent back to the server in China for analyzing or other usages.
3. SnapTube is a traffic killer.
Is SnapTube safe to install? After installing SnapTube, you will find that your mobile data run quickly. To find out how much data it runs, I tested by installing SnapTube in a new, clean phone, with a flow monitoring tool.
As you can see, the monitoring tool showed SnapTube runs 1.25MB once I open it without watching or downloading a video. Average speaking, if we open it 10 times every day, it will consume more than 10MB traffic! It's terrible for the people who using 2G/3G/4G.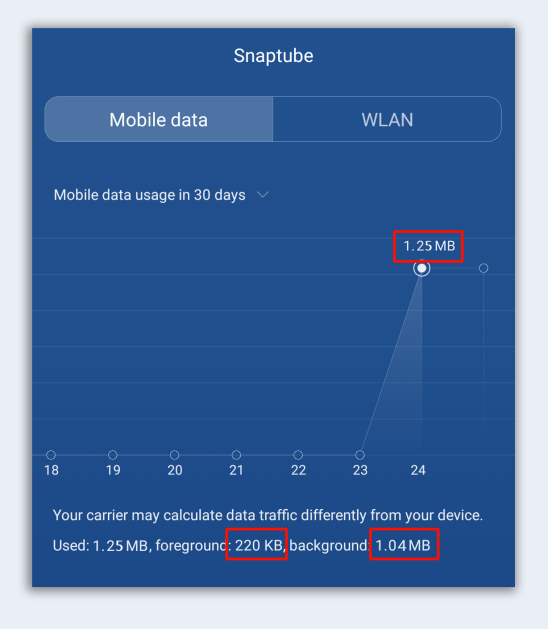 As the tool showed above, SnapTube's foreground run 220KB for loading images while background consumed 1.04MB. Why SnapTube run 1.04MB in the background? Is SnapTube reading your personal data with 1.04MB background data? I have not a certain answer.
Moreover, SnapTube is designed to show popular Youtube videos which run extra data.
SnapTube consumes data through grabbing endless hot videos from Youtube and displays on the home page.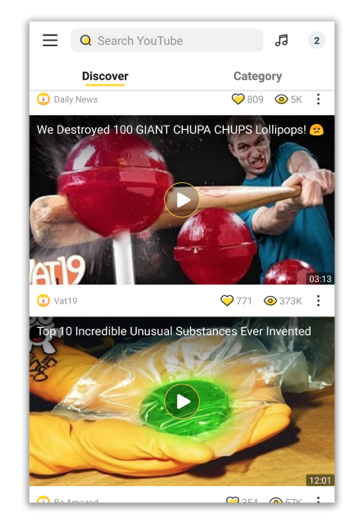 SnapTube does not support downloading Youtube video. If you want to watch a video again, your device needs to load it twice or more and consume a lot of data.
Also, SnapTube has other shortages.
Maybe you already have an answer for the question "Is SnapTube safe?" To know more about the app, follow what I found about SnapTube. When I use SnapTube I found it has obvious shortages in downloading videos and songs. Below are the problems I have encountered.
1. SnapTube can not download Youtube video.
The app introduction says SnapTube is a free Youtube, Facebook, etc. video & music downloader. In fact, SnapTube hasn't an entrance to Youtube website and doesn't support downloading Youtube videos.
So I copied a link of Youtube video (the SnapTube download icon didn't appear) and pasted to the search box on the top of SnapTube, the video appeared but I still can not download.
Youtube is the most popular and biggest video site at present. Thus, it is unreasonable if a video download tool can not download Youtube video.
2. SnapTube has few supported site.
SnapTube only supports 9 websites. It is ridiculous! As a downloader, SnapTube should support as many sites as it can.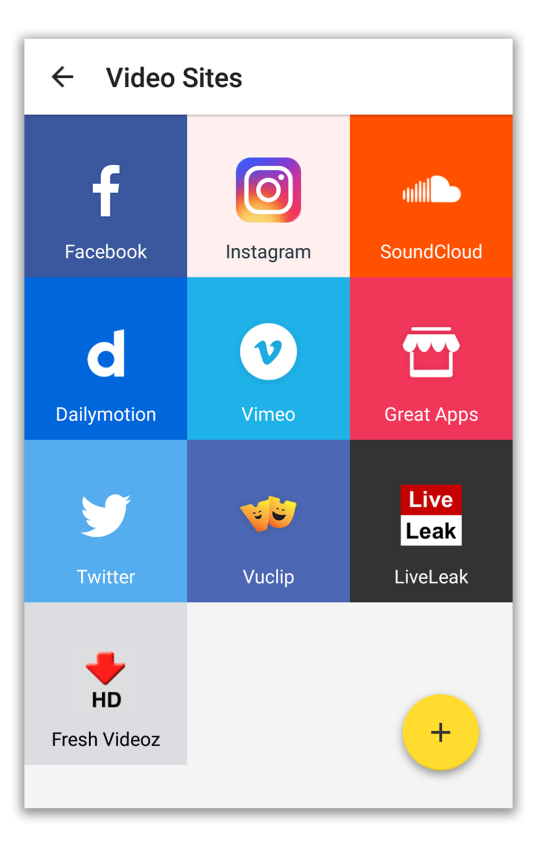 By contrast, other similar apps are more attractive because most of them have about 30 supported sites.
3. SnapTube provides few format for download.
When I download videos with SnapTube, I found most of videos only have one format or resolution. It is not convenient if your device doesn't support the provided formats. And it is annoying when you want HD video but SnapTube provides video in low resolution.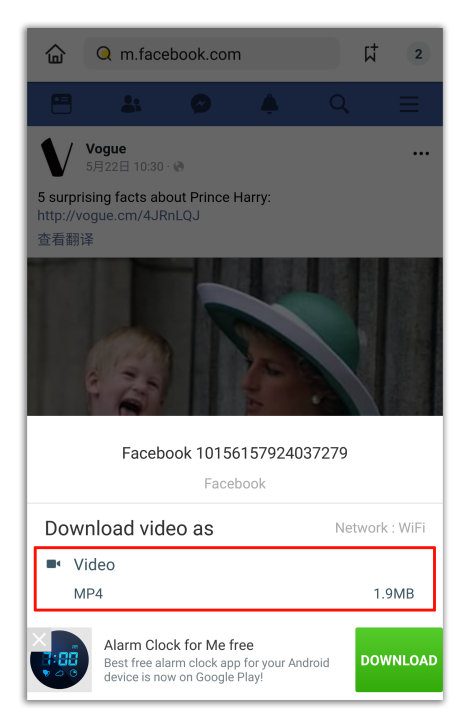 What's may make you feel more unhappy is the inducing DOWNLOAD button in advertisement. For my part, I mistaken it as video downloading icon and installed useless apps for several times.
4. SnapTube hasn't any personal privacy protection.
People adopt private mode or incognito mode sometimes while browsing, especially while watching or reading something private.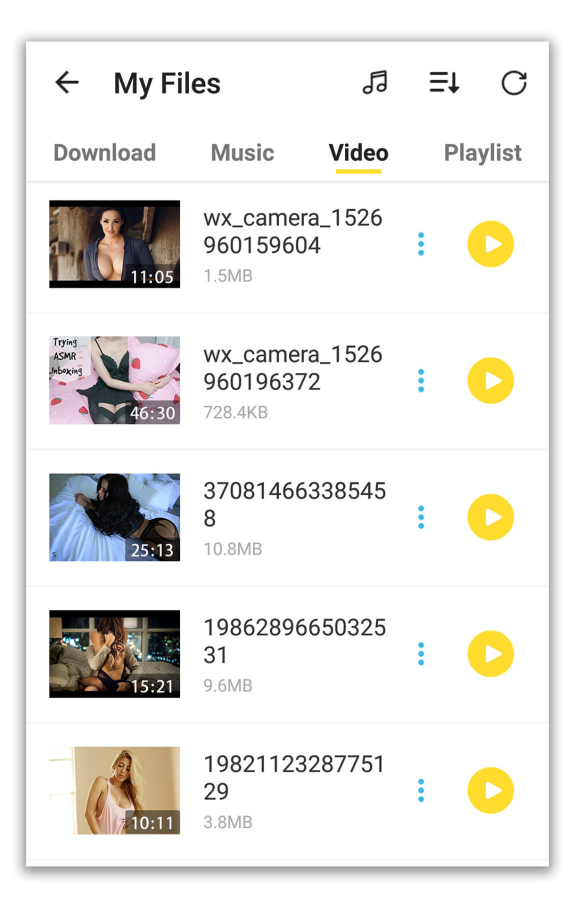 SnapTube allows users to download adult videos for their need without any protection. Supposing that you have downloaded some adult videos through SnapTube, your friends or families see the videos while using your SnapTube app, really embarrassing.
It's better to add a Private function into the app, to allow users set a password for watching the videos.
So, how to download Youtube videos freely?
Since SnapTube is not that safe and has a few shortages, how can we download videos and songs freely?
I found there are many other video downloaders for us to choose. After comparing, I downloaded InsTube from its official site. InsTube video downloader gives me excellent using experience:
I could download Youtube video through InsTube!
My privacy is protected under InsTube's Private Mode.
InsTube only requests necessary permissions and consumes less data.
I could select different formats and resolutions while fast download.
Only ONE app meets all my needs. InsTube has 34 supported sites with comprehensive contents – Youtube, Facebook, Twitter, Instagram, etc.
Of course, you can try other similar downloaders according to your preference. Or you can share with us if you find a better video downloader.
Read More: