The Best YouTube Video Downloader App for Your Android
Everyone searches for the best YouTube video downloader apps for Android.
But some downloader app does not include the features and benefits which you want to see in a single app.
Actually, most people need to download and install multiple apps for different video formats or resolutions. But, installing multiple apps will not only occupy more space of your smartphone but  also slow down the speed.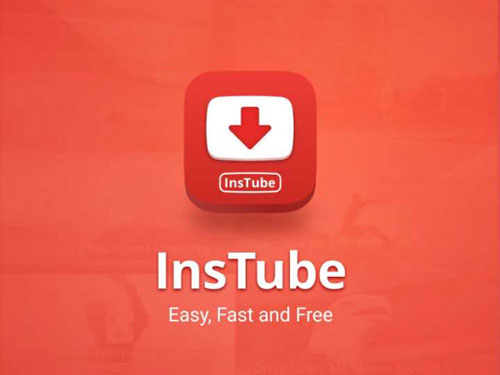 In this case, InsTube is one of the most popular and all-in-one video downloader app which includes everything you need to download videos from your Android device.
Why Is InsTube Better than Other YouTube Video Downloader Apps?
Usually, people do not know the difference among different Android video downloaders.
The few points below  will help you learn why Instube is better than other Android Youtube video downloader apps.
1. InsTube Supports over 100 Video Sites.
Most of the video download apps support the specific platform.
For example, the Tubemate only allows you to download Youtube videos.
If you want to download videos from other platforms like Facebook, Twitter, Vimeo, Hotstar and Dailymotion, then you need to install other apps.
But as the all-in-one downloader app, InsTube supports all these platforms.
Moreover, InsTube also allows you to download videos from Live Leak, Metacafe and many other video platforms.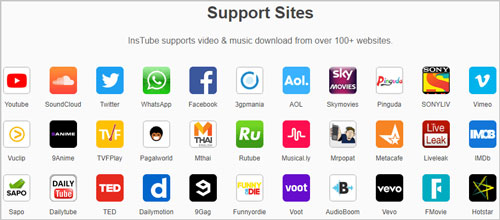 2. InsTube Features a Built-in Browser.
Most of the download apps need their supporting apps to be installed and activated on your android phone.
For example, Keepvid. You need to download youtube videos by running the YouTube app on the background and play the video within keepvid browser .
On the other side, the InsTube integrates with a built-in browser, where you can directly download videos from the youtube and other media platforms. You have not even to launch the YouTube app on the background.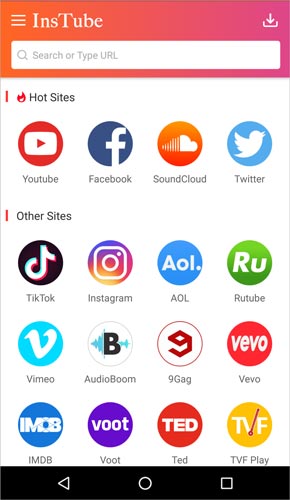 Therefore, the InsTube is easy to operate and also takes less space on your android device.
Moreover, the InsTube video downloader app does not need additional plug-in or encoding to activate on your Android phone.
3. InsTube Is the Best Video-to-MP3 Converter.
Apps like Tubemate and Keepvid only download videos from Youtube in MP4 format. But InsTube is a YouTube MP3 converter that allows you to convert the videos to other formats, like MP3.
Besides, InsTube also allows you to download video and audio at the same time.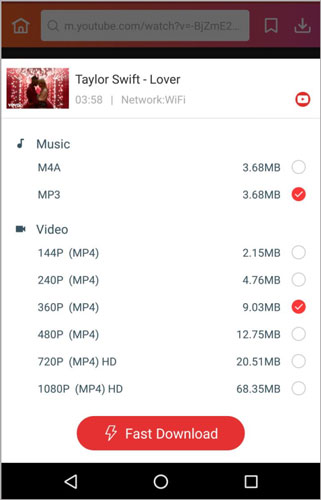 So, with this video and audio format converter, you do not need to download additional video or audio converter any more.
4. InsTube Is Totally FREE
Inclusive of all the above-mentioned features and qualities, the InsTube app is completely free.
Many apps allow you to install the trial version for a limited period and ask for paid registration on their completion of trial period.
Even, some apps offer different packages with limited download options. Thus, you needs to pay the huge amount to avail complete access to those apps.
But InsTube video downloader app is completely FREE along with all features and accessibility options including downloading and converting videos and audios.
To conclude, InsTube is the best YouTube video downloader app for your Android device.