4 Easy Steps to Download Free Action Movies on Samsung Galaxy S9
Do you know how to download action movies on Samsung Galaxy S9, which can be said to be the best Android phone of 2018. The features like water resistance, great camera, wireless charging, and expandable storage all make it a great choice for people. Although it is considered that some problems existing in its software side, that can't reduce the public's enthusiasm to purchase it.
Nowadays, mobile phone has become more and more indispensable to the public. It helps to enrich our activities and equip us with information and knowledge. However, regardless of the uncountable functions, entertainment, such as listening to music, watching videos and playing games, still responses for an important part of the reasons why we must have a great mobile phone like Samsung Galaxy S9.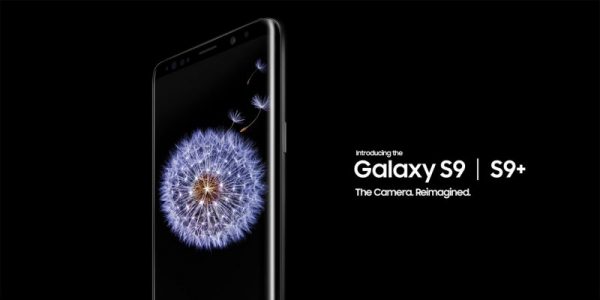 Why Need a Video Downloader to Download Action Movies.
Difficulties to Download a Video
Downloading free action movies on Samsung Galaxy S9 is not an easy task. Everyone loves action movies. Some may love the carefully crafted cinema, full of smart plotting and rich characters; some may like the big explosions, great excitement, and a brainless good time.
All in all, action movies always attract a lot of attention. Sometimes, when you find a wonderful action movie, you would like to download it to your mobile phone to ensure the fluency when the movie is playing, because a sudden stop can totally ruin your enthusiasm. Sometimes, you may choose to download an action movie for offline viewing just to get rid of the boring time. Action movies worth all the efforts.
Action Movies on the Top Site
As to videos websites in which people used to enjoy action movies, YouTube may be the hottest one. It lists on the top with one billion visits per month. Dailymotion, though it doesn't have as many visitors as the former, also wins a good place in the emerging market with its great picture quality, flexibility, and many other advantages.
It has 112 million visits in a month. There are many other video websites like Vimeo and Vevo. These apps, in which you can find a large number of action movie resources, were designed to make it easier to find and watch videos on your mobile phone. Now, if you are a Samsung Galaxy S9 user, looking at this article to see how to download free action movies to it, and you'll find that you can save and protect your videos within seconds.
Best Video Downloader App
It is not reasonable for one to download all the video websites, which not only occupies much storage but also affect the running process of the mobile phone. Although the Samsung Galaxy S9 boasts the top-of-the-line processor and the expandable storage, that can not be considered a wise decision. You can download one or two video app you like. As to the others, we can help you find one app that supports almost all sites you like: InsTube.
InsTube is not only an app allows you to watch online videos from over 40 sites, it is mainly a video downloader that can help you download all of them to your gracious Samsung Galaxy S9 (or any other Android devices.)
How to Download Free Action Movies on Samsung Galaxy S9.
Step 1: Install InsTube
Similar to others, the first you should do is taking out your Samsung Galaxy S9 and download InsTube to the phone. Or you can download it from our official website.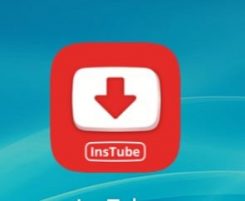 Step 2: Search for the Action Movie and Download It
Open InsTube and search the action movie you want to see in the search box on the top. If you have the URL of that movie, you can paste it into the search box and it will help you find the movie quickly. For exampe, enter "Avengers Infinity War" into the search box.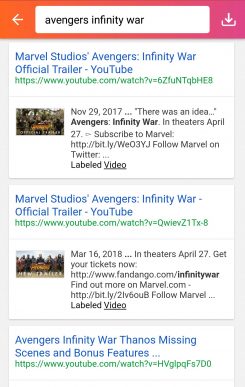 Note: If you have the video apps supported by InsTube, like YouTube, Dailymotion, and Vevo, etc, in your phone, you can directly download the action movies you want to see from them using InsTube.
See also: How to Download DailyMotion Videos Using InsTube.
How to Download Videos from Vevo.
How to Download Videos and Music from YouTube.
Then, tap on the action movie appears. And at the same time, a red download button will pop up on the button right of your Samsung Galaxy S9.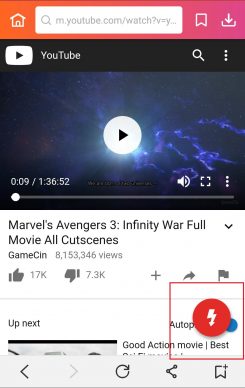 Step 3: Choose the Format
Choose the format you want to download your action movie. InsTube allows many formats like 3GP, MP4(in different resolutions), M4A, MP3, etc. then tap on the "Fast Download" icon.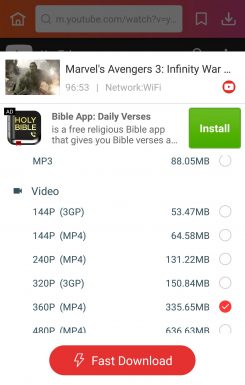 Step 4: Download Finished
Then, You can tap on the download icon on the upper right to check the downloading process. All the videos or music you have downloaded will be kept in "My Files".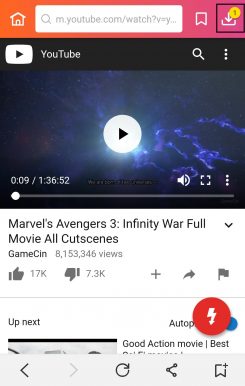 Now, the downloading process finishes now. Is it enough? Maybe there are some action movies that you want to see alone. InsTube provides the function of hiding your movies.
See more: How to Lock Videos and Music.
The locked action movie can be found in "Privacy". And one can only see it by entering the password you have set for it in your Samsung Galaxy S9.