Memories of the Alhambra Korean Drama Free Download
During 2018, there are many popular Korean dramas aired online, including Encounter, Sky Castle, The Last Empress, Life on Mars, Memories of the Alhambra, and so on.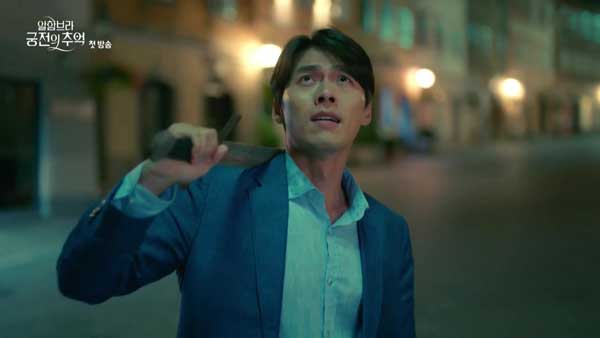 In this post, we are talking about Memories of the Alhambra introduction and how to download its full episodes for free.
Memories of the Alhambra (2018)

Memories of the Alhambra, or Alhambeura Goongjeonui Chooeok, has an interesting story background: VR game and real world. This makes the drama stands out from its competitors.
Korean Title: 알함브라 궁전의 추억
Episodes: 16
Aired Period: Dec 1, 2018 to Jan 20, 2019
Screenwriter: Song Jae Jung
Director: Ahn Gil Ho
Stars: Shin-Hye Park, Hyun Bin, Chan-Yeol Park
Genres: Action, Thriller, Mystery, Romance, Sci-Fi, Fantasy
Though many watchers complained that Song Jae Jung (screenwriter) messed the drama up and they are disappointed by its ending, Memories of the Alhambra has a good score.
Sinopsis of the Korean Drama
Yoo Jin-woo (acted by Hyun Bin) is attracted by a game during his business trip in Spain. Therefore, he goes to Granda, Spain to meet the designer of this virtual game. But the game designer doesn't appear in the appointed place, Jung Hee-joo's (acted by Shin-Hye Park) hotel.
The story goes on between Yoo Jin-woo's game experience and the real world story…
Watch Alhambeura Goongjeonui Chooeok Online
Of course, you can watch the Korean drama online if you miss it on television. Here are two platforms we select for you from various results after searching Memories of the Alhambra online:
Watch on Netflix: https://www.netflix.com/title/81004280
Watch on 123Enjoy: find it by searching "memories of the alhambra 123enjoy".
Download Memories of the Alhambra
You can download Alhambeura Goongjeonui Chooeok from online if you found the full episodes on Dailymotion, YouTube, Facebook, etc.
Step 1. Install InsTube video downloader to help you downloader videos for free.
Step 2. Search the drama online through these words: Memories of the Alhambra episode 1 Eng sub, Memories of the Alhambra sub Indo, Memories of the Alhambra watch online, etc.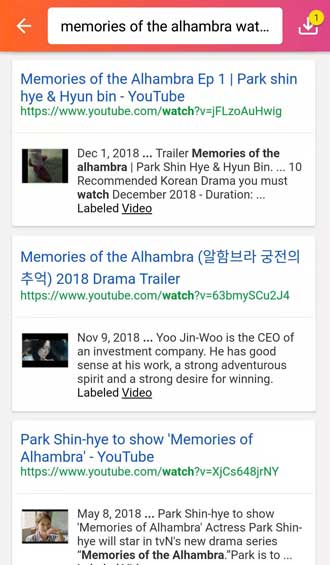 Step 3. Open the video about the targeted EP. Then resolve it by tapping the red button on the screen.
Step 4. Choose a wanted format and definition to start downloading this Korean drama for free.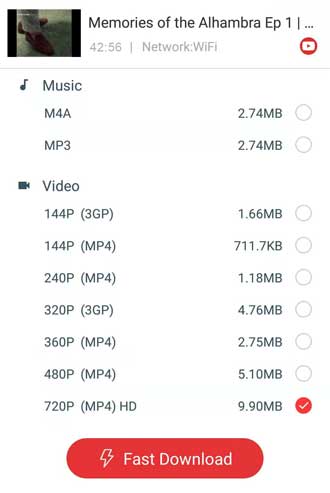 More TV Series:
Romance Movies: