5 Tricks That Will Make You Find a Perfect YouTube Video Downloader
There are plenty of posts like "Best YouTube Video Downloader for Android" on the Internet. So you may feel confused that which one is the best when choosing a downloader. Here are 5 tips to narrow down the options and help you get the most appropriate YouTube video downloader.
#1. Make sure the app matches with your device.
Some apps are designed solely for Android, iOS, or Windows. It is a waste of time if you have an iPhone but choose an app for Android.
Be sure that the downloader will work with your phone or computer. To find out what system does it works for, you can read its title or detailed description. For example, when you search InsTube on Google, the first result is "InsTube – Free YouTube Video & Music Downloader for Android". After viewing the words you know InsTube is made for Android system.

#2. The downloader should meet what you need.
An app is useful if it helps you solve your problem, move closer to your goal, or simplified your life. Likewise, a YouTube video downloader is appropriate for you if you can download your favorite videos. Or else, it makes no sense given that your goal is to download video from YouTube but the app not supporting.
Know what you need and check if your target sites are included in its Support Sites. Give the downloader up once you find it does not support your desired sites.
#3. Safety is a fundamental consideration.
Install an app with virus may make your life like a mess. Your personal information may be stolen, your contact may be lost, your phone may get a black screen frequently…So, take your time to inquire if the downloader is safe to install.
Check if the video downloader has virus. Video downloaders are banned by Google Play because they violate Google Play policy. That's not mean they are insecure. To evaluate whether a downloader is safe, you can read its introduction on the official site to see if it's verified by any regular security application. Moreover, read some reviews and comments on the Internet to know what others say about the app.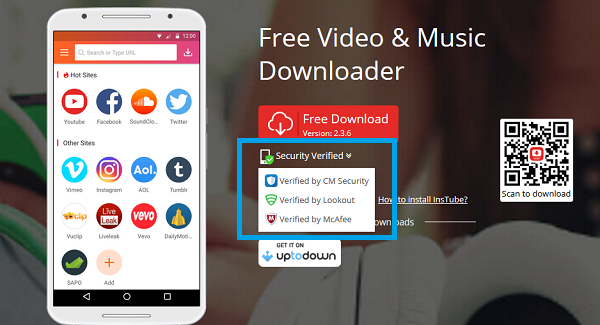 Privacy protection makes it better. When using a video downloader, many people hope it protect  their private videos. Some developers of downloaders have taken the need into consideration. They help their users to protect the videos by setting a password. A YouTube video downloader like InsTube, for example, provides Video Lock feature to lock videos in private space, where others are required for a right password to view the videos.
#4. Support as many sites as possible.
The more sites a video downloader supports, the more possibility you have to download the videos you like. To offer better service, a good YouTube video downloader should support as many sites as it can.
Though many downloaders allow user to add more support sites manually, the downloader which listed more sites already is preferred. For instance, if you want a downloader supports AOL, you are likely to choose the downloader with AOL in Support Sites and leave the apps which do not contain AOL in Support Sites behind, although you can add AOL site manually.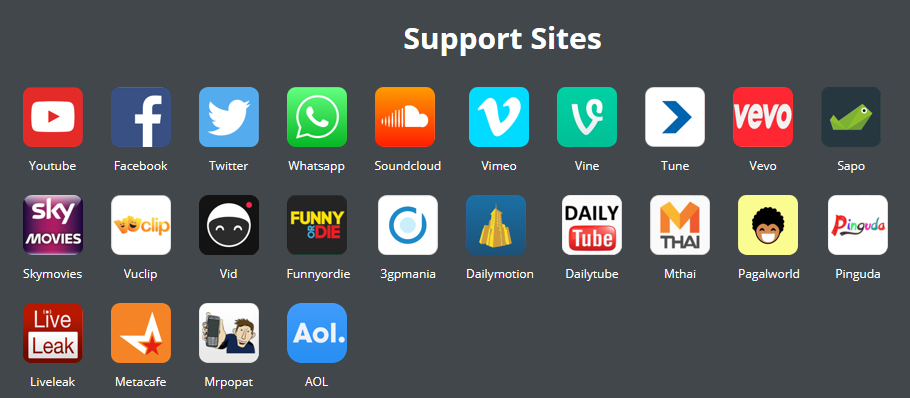 #5. It is better to provide high definition videos.
People like high definition videos because they want to watch videos more clearly. To meet the preference, the YouTube video downloader should better offer videos with high resolution for downloading.
Generally, high definition video (HD video) is video equals or greater than 720P resolution. Actually, most of apps provide options of different video resolutions. Some of them offer most videos with maximum 720P resolution, whereas some even offer 4K quality videos. To find out what resolution a downloader exactly offers, you should read its description carefully or search more information on the Internet.
Wrap up
Take time to explore the apps on your list. Read more reviews or comments if possible, so that you will get a bigger picture of the apps, instead of just someone's opinion on whether you should use it or not.