The Best Free YouTube Music Downloader for Android
Are you preparing for a long road trip or going camping in an area out of network coverage? The chances are that you might not be able to access your favorite music from YouTube. In other instances, the tracks might be moments from expiry and fans will never get to enjoy them anymore. Despite these scenarios, nothing should come between you and your favorite music because there is an awesome free YouTube music downloader for Android right now.
The ideal method of downloading music from YouTube is using the right apps. Though there are a number of YouTube music downloader apps for Android on the market, it is important to pick the one that has positive reviews from past user.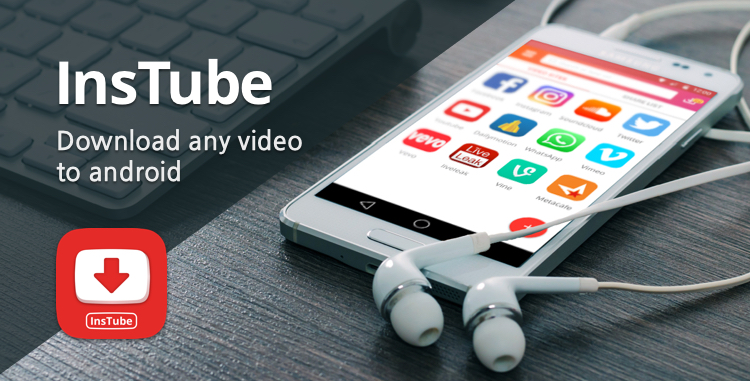 Select the Best Music Downloader Based on Your Smartphone
Many people have been asking the question about the best app on Android smartphones to download music from YouTube. The best App should be easy to use. It should accelerate the download speed, guarantee extra safety and feature a direct video converter. Other characteristics of a great free YouTube music downloader include;
Ability to access all types of music on YouTube
Extended capabilities to download even videos from other places
Capability to even download music from other places including social media
Safety of the app's use after installing on the smartphone
Considering the characteristics of a good YouTube music downloaded we listed above, there is one downloader APK which is quite appropriate: InsTube.
Download YouTube Music with The Best Music Downloader
As soon as you have found the best YouTube music downloader for your Android, you can start to download music on that app
Download and Install the Selected App
Once you have selected the best music download app for Android device, download and install it to enable all functionalities. Because Google discourages direct download of music from YouTube, most downloader apps will not be available in Google Play. Therefore, make sure to allow apps from third parties.
Open the Music Downloader and Start Downloading
Open the YouTube music downloader you have just installed on the Android smartphone, and then find and enter YouTube website. For example, you can find YouTube's icon on the homepage of InsTube. Tap on that icon to enter YouTube website.
Search for your preferred song in the search box of YouTube. Most apps also allow users to pick the selected URL address of the track to start downloading the preferred song.
Pick the Right Format of the Selected Music
Before starting the download, it is important to think about the player. Will you play the song exclusively on the smartphone, laptop, tablet, desktop, or the home theater? On InsTube, as soon as the music starts to play, a red download button will appear. Tap on that button and then a page will pop up telling you select the format for your song
If you selected an app that does not provide for direct conversion, converting software would be required. Just like you selected the download app, it is important to pick the converter compatible with the smartphone under consideration.
Select the Preferred Music Storage
If you are using the top apps to download YouTube music for free to an Android device, this step might be unnecessary. For example, InsTube creates a special folder for all your music downloads and secures them using a special Video Locker feature. However, some of the apps require the user to select the preferred storage before the download process can commence.
See more: How to Download YouTube Music and Video with InsTube.
You can download YouTube music with InsTube, which is one of the best music downloader. You can get InsTube here and start to download your loving songs. If you have any problems, feel free to contact us at Facebook or Twitter.