Happy Mahashivratri – Maha Shivratri Wish Videos 2019 WhatsApp Status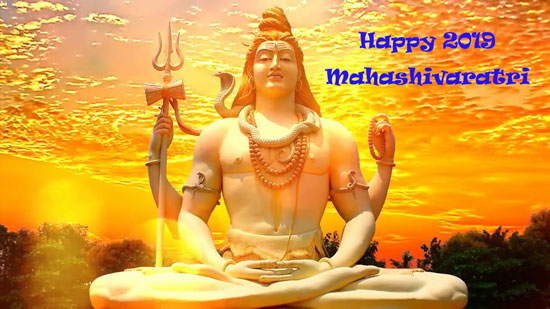 Mahashivratri is a main festival of Hindus.
In Hindu mythology, Lord Shiva stands for the source of immense power and is worshiped all across the country with fervent devotion.
This year's Maha Shivaratri is on Monday, 4 March in 2019. This day is called the night of the marriage of Lord Shiva and Lord Parvati. On the day of Mahashivaratri, people worship Lord Shiva. On the occasion of Mahashivaratri, share these selected congratulatory videos with your friends or family members on social media and become devotional and eligible for Lord Shiva's grace.
महाशिवरात्रि (Mahashivratri) हिन्दुओं का एक प्रमुख त्यौहार है। इस साल 4 मार्च सोमवार को महाशिवरात्रि बनाई जा रही है। इस दिन भगवान शिव (Lord Shiv) और मां पार्वती (Mother Parvati) के विवाह की रात कही जाती है। महाशिवरात्रि के मौके पर इन चुनिंदा बधाई संदेशों को अपने के साथ शेयर (Share) करें और भक्तिमय होकर भगवान शिव की कृपा के पात्र बनें। महाशिवरात्रि के दिन लोग भगवान शिव की आराधना करते हैं और भगवान शिव के ये विश  भी आप शेयर कर सकते हैं। आप सोशल मीडिया (Social Media) या मैसेज करके भी इन विश मैसेज को भेज सकते हैं जो टेकस्ट और तस्वीरों दोनों में है।
Selected Mahashivratri Wish Videos 2019
MahaShivratri Status Video 2019, Happy Maha Shivratri, Shivratri Whatsapp status
Maha Shivratri Special Status 2019 | Happy Shivratri WhatsApp Status Video | Playing Kids Slusha
आज महाशिवरात्रि सोमवार के दिन इस आरती को सुनने से शिव जी प्रसन्न होकर मनोकामनये पूर्ण करते हैं
Download Mahashivratri Wish Videos to Your Android Phone
Note: You can use InsTube video downloader to download the Maha Shivratri wish videos and share them to WhatsApp, Facebook or other social media platforms.
Only 3 steps:
Download and install InsTube video downloader.
In InsTube, find Mahashivratri wish videos from YouTube, WhatsApp, Dailymotion or other video sites (or just paste the video URLs above to the search bar within InsTube). Then, tap the red download button.
Select available audio or video resolution/ formats you need, for example, 480p in MP4, and tap "Fast Download".
Then you can go to your gallery or camera roll to check the wish videos of Mahashivratri you've just downloaded.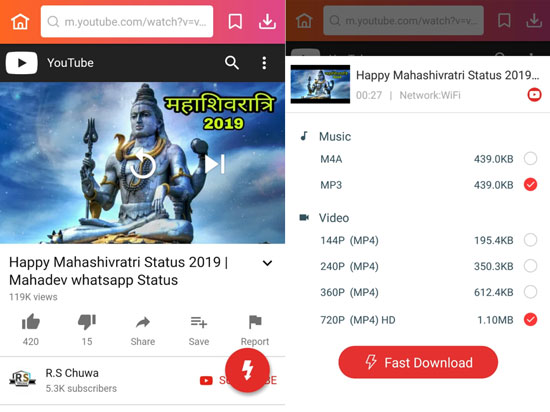 For more Bollywood, Punjabi or Telugu video resources, please subscribe to this blog and keep your eye on the ball. Share with your friends if you like this post.
Note: If the downloading links are Not Working, please Comment below and we will update the resources as soon as possible. Or you can write your experience on Mahashivratri 2019 below.
Happy Maha Shivratri.
Read More: