Manmarziyan Songs Download from YouTube in MP3
Looking for Manmarziyan Songs Download?
Manmarziyan (2018) is a Hindi romantic comedy directed by Anurag Kashyap.
Composed by Amit Trivedi, Manmarziyan songs get popular after the first song release. Also, Amit Trivedi won the Best Music Director of Star Screen Awards in 2018.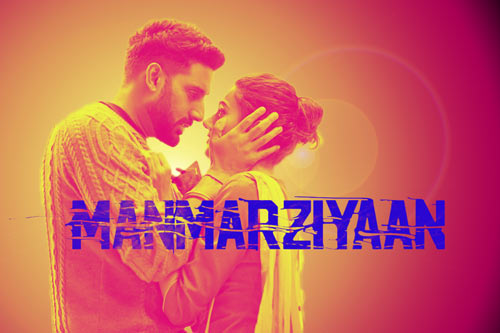 Plus, on YouTube, the Manmarziyan song videos got over millions of visits. So, many audiences want to download Manmarziyan songs for offline listening.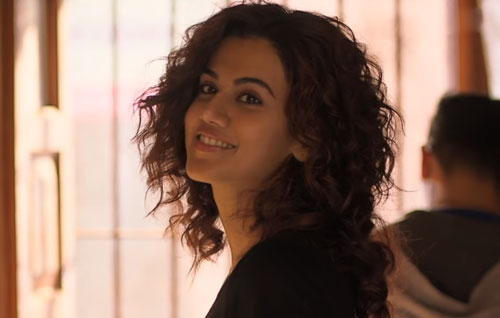 If you are interested in Manmarziyan movie and its soundtracks, let's go on for Manmarziyan songs download and full movie download resources.
Manmarziyan (2018)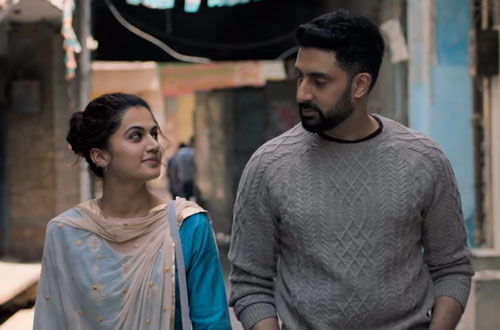 This film tells a love triangle story among Rumi, Vicky and Robbie.
At first, Rumi (Taapsee Pannu) is in love with Vicky (Vicky Kaushal).
But Vicky does not show and propose to Rumi, and this makes Rumi's family marry her to Robbie (Abhishek Bachchan).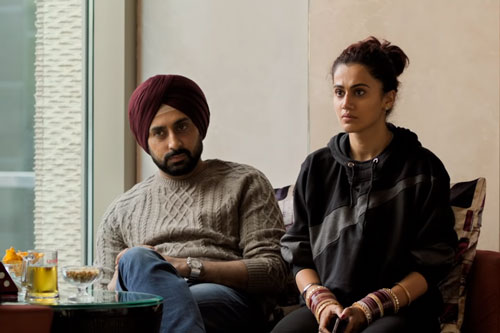 When Vicky backs, he finds Rumi has got comfortable with her husband. He asks Rumi to make a choice.
Who will Rumi choose?
Here is the basic info of Manmarziyan full movie: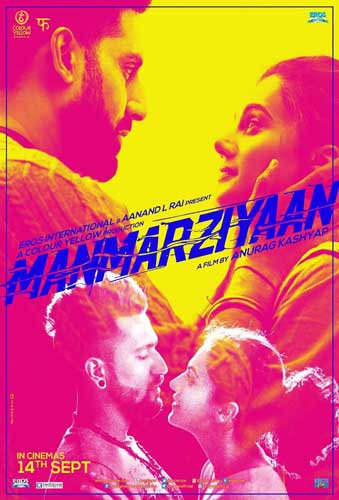 Original Title: Manmarziyan
AKA: Husband Material
Release Date: 14 September 2018
Genre: Romance, Comedy, Drama
Language: Hindi
Run Time: 156 min
Box Office: ₹40.39 Crore
Director: Anurag Kashyap
Cast: Taapsee Pannu, Abhishek Bachchan, Vicky Kaushal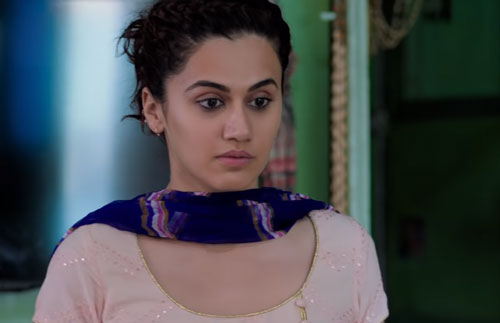 Taapsee Pannu acted the leading role, Rumi in Manmarziyan movie. Besides this film, she also performed in top movies like:
Manmarziyan Songs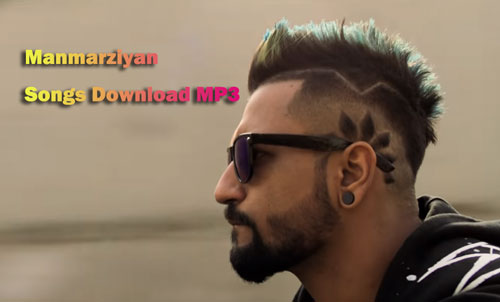 Manmarziyan movie album includes 14 soundtracks:
| | |
| --- | --- |
| Title | Length |
| "F for Fyaar" | 3:52 |
| "Daryaa" | 4:21 |
| "Daryaa" (Unplugged) | 3:29 |
| "Sacchi Mohabbat" | 4:15 |
| "Grey Walaa Shade" | 4:43 |
| "Dhyaanchand" | 4:10 |
| "Chonch Ladhiyaan" | 4:55 |
| "Hallaa" | 4:49 |
| "Jaisi Teri Marzi" | 3:50 |
| "Bijlee Giregi" | 3:41 |
| "Kundali" | 3:47 |
| "Jala Di" | 3:49 |
| "Fyaar Pe Duniya" | 2:43 |
| "Sherni" | 1:30 |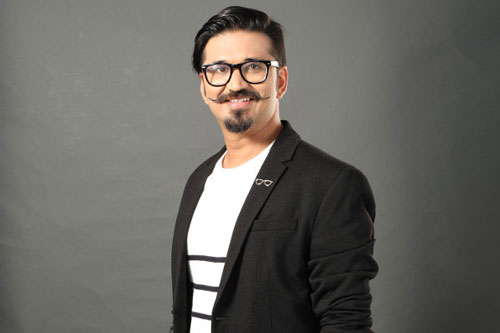 Besides the Star Screen Awards, as we've mentioned above, the composer, Amit Trivedi also got nominated at 64th Filmfare Awards (2019) for the Best Background Score and the Best Music Director.
The album was released on 13 September 2018 by Eros Music, and you can enjoy the music on its official YouTube.
Let's enjoy the song "Daryaa":
If you want to download all the Manmarziyan songs in MP3 format for offline listening, then see the guides:
Manmarziyan Songs MP3 Download
With a YouTube video downloader app, it is easy to download songs, videos, or movies in batches from YouTube.
One-click to batch download Manmarziyan movie songs:

Thus, you can try InsTube to get Manmarziyan movie soundtracks download in MP3, MP4, or M4A format.
Only 3 easy steps to download music:
Step #1. Install InsTube app on your Android phone. Then tap onto YouTube, Soundcloud or other sites to search for Manmarziyan songs.
For example, "Daryaa".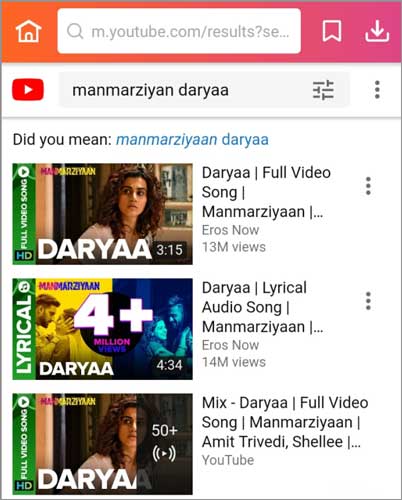 Step #2. Click the red lightning button for the list. Select the media file formats you need.
For example, MP3.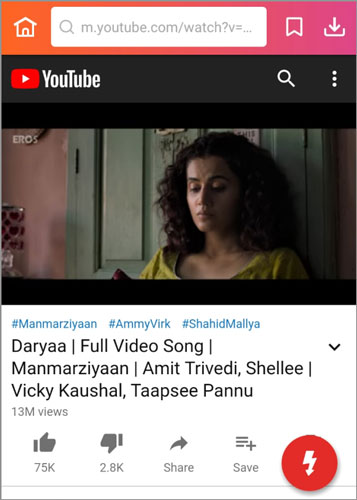 Step #3. Tap the "Fast Download" button and start downloading the Manmarziyan movie song.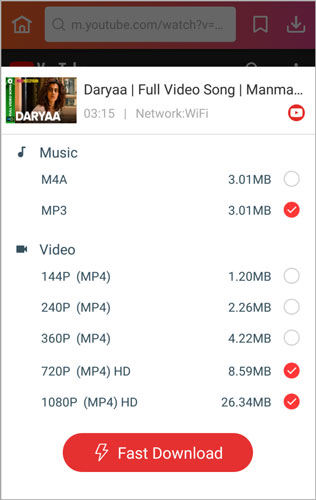 Also, you can use InsTube to watch or download Manmarziyan full movie.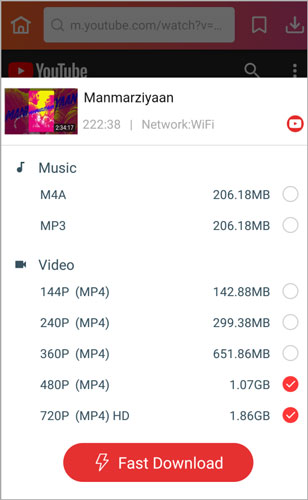 If you have problems in Manmarziyan songs download via InsTube, you can read the guides:
What's more, you can watch Manmarziyan full movie or video song through an HD video player.
If you meet Manmarziyan full movie download problems, drop a comment line below.